MOST RECENT PROJECTS IN DATE ORDER (MOST RECENT FIRST)
NIGHT LIGHT STUTTGART 2014
a new project that explores the unnoticed aspects of the city,
a night time guided tour with a powerful torch
the narrative is explored by a musician from the local area
playing a blend of free form improvisations in response to the illuminated detail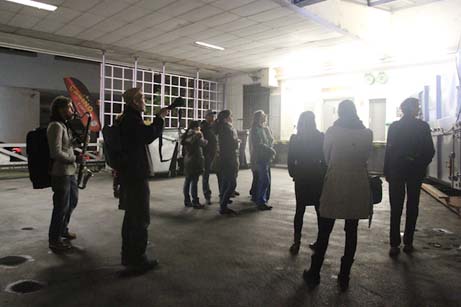 CITY OF LIGHT 2014
commissioned for Light Night Leeds 2014,
constructed from redundant photographic transparencies
During the evening people were able to construct their own small structure
illuminated by an LED tea light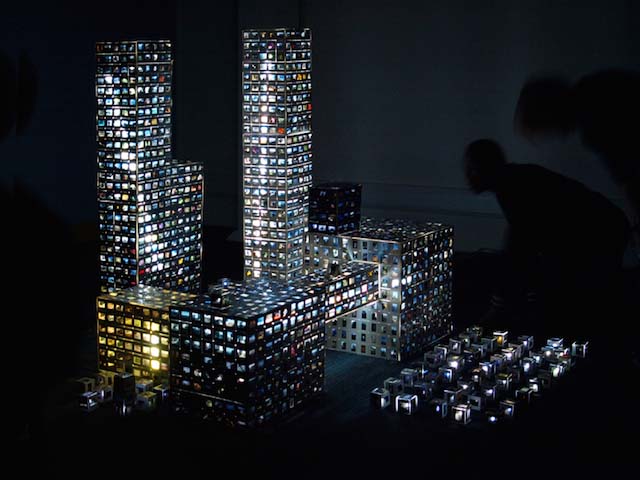 THE SPODE MOULDS 2014
commissioned by the Silk Mill Derby 2014,
using just a few of the 9000 individual items
used to create the Crown Derby figurines
These items have been in storage since the factory closed in 1870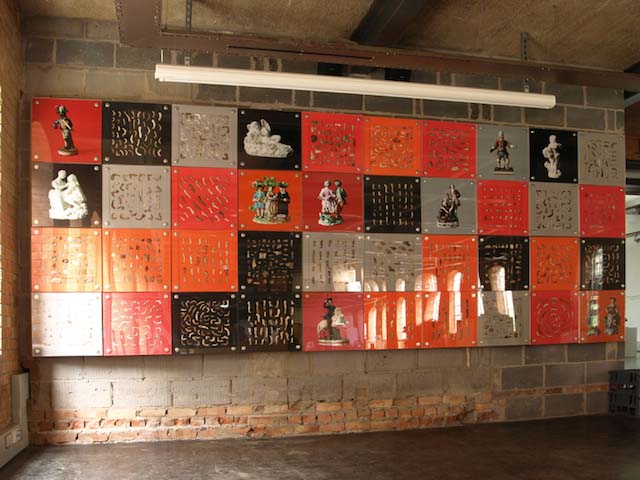 RECYCLED WIRE 2014
commissioned by Barnsley CC as part of the Tour de France event2014,
electrical wire woven onto steel mesh
developed with the assistance of school children from Barnsley
sited on the Trans Pennine way the work depicts both the route for the TDF and the TPW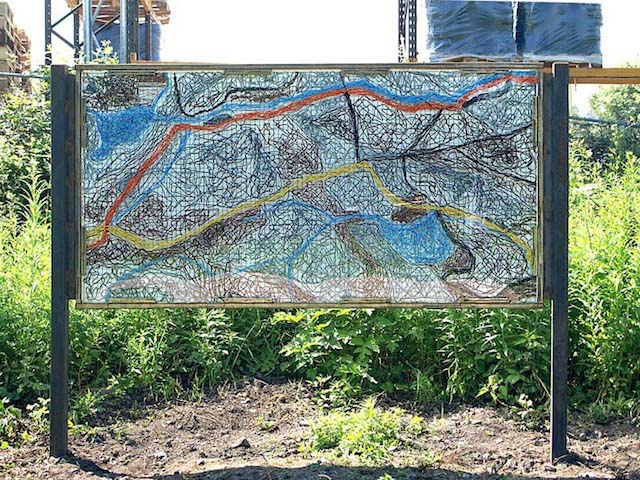 THE GOLDEN CAMERA AWARDS 2014
commissioned by Hot House theatre for the Gedling Film Festival 2014,
the winning film in each category received an award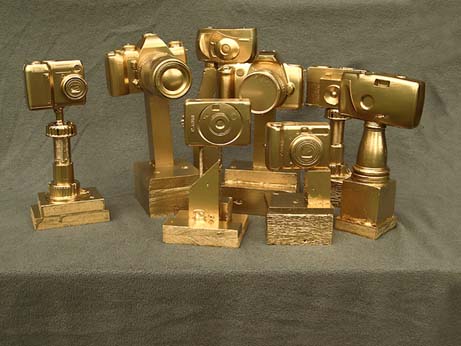 DOOR LIGHT 2014,strong>

commissioned by E-luminate,
installed above the main entrance to Anglia ruskin University Cambridge.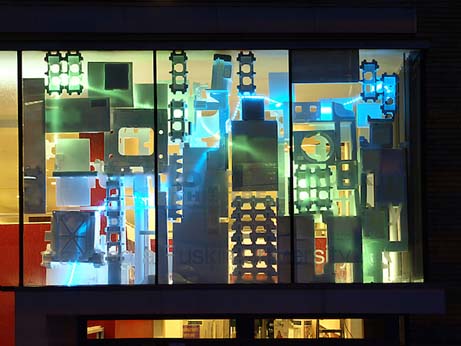 SHINE 2013
commissioned by Brighton City Council for Shine on London Road.,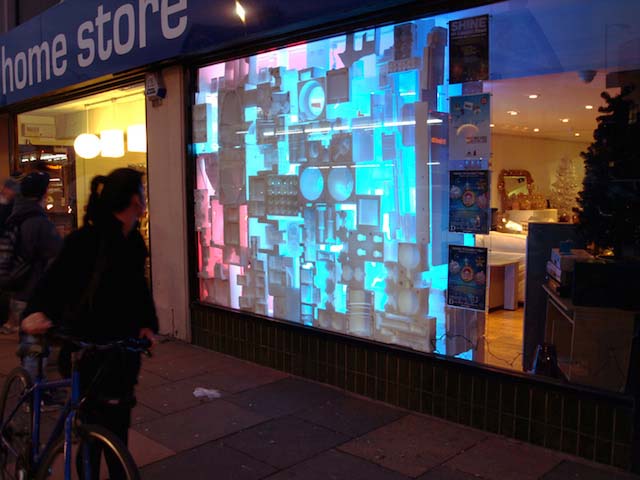 PROCESS 2013
Exhibited in Process Mattters
at the Gallery Stoke Newington. London.
incorporating film work on integrated monitors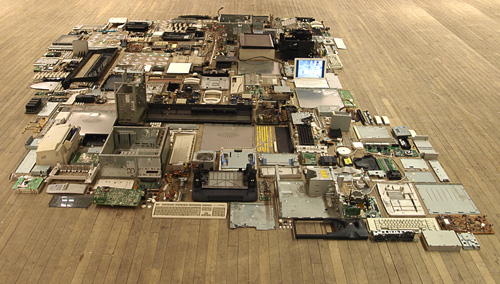 LIGHT CUBE 2011
in collaboration with Look4ideas
using colour change LED flood lights fibre optic lights and laser
part of Light Night Nottingham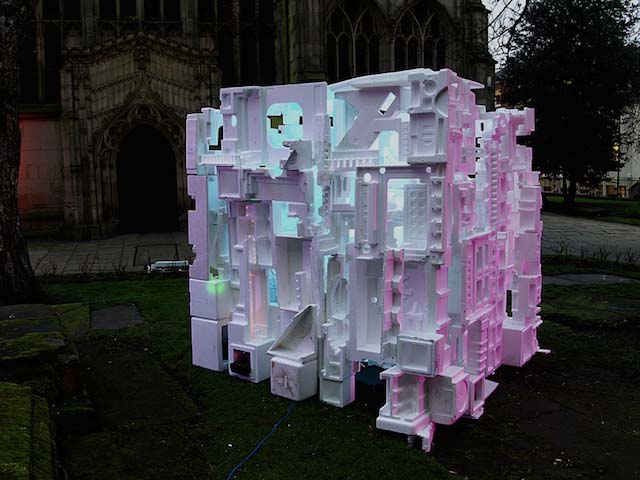 REJECT LETTERS
an ongoing installation using numerous letters of rejection
accumulated over a long art career.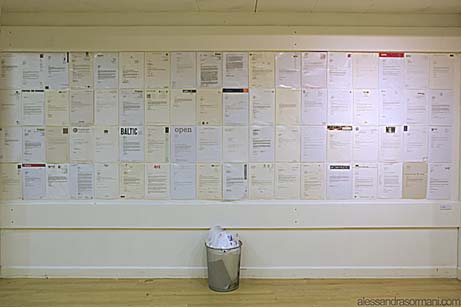 LOST AND FOUND, WOKING
The most recent installation of this ongoing collection of found objects,
first shown at Nottingham Castle in 2000.
Each time the collection grows as new found stuff is added.
Recently supplemented by innumerable objects unearthed during the closure of studio provision here in Nottingham.
This exhibition opened at the LIGHT BOX Chobham Rd Woking Surrey GU21 4AA
3 March - 10 May 2009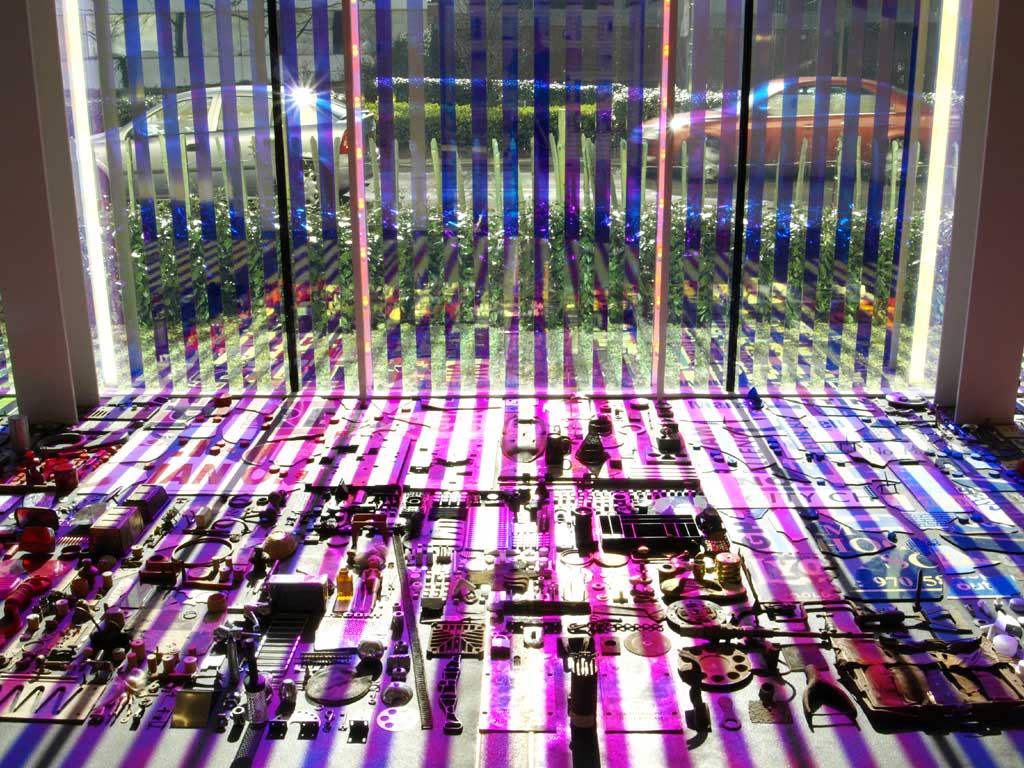 THE CARLISLE COLLECTION

20-21 Visual Arts Centre, Church Square, Scunthorpe DN15 6TB info:01724 297070

The Carlisle collection opened on the 4th October and closed on 6th December.
Read article on show here.. (requires adobe pdf reader)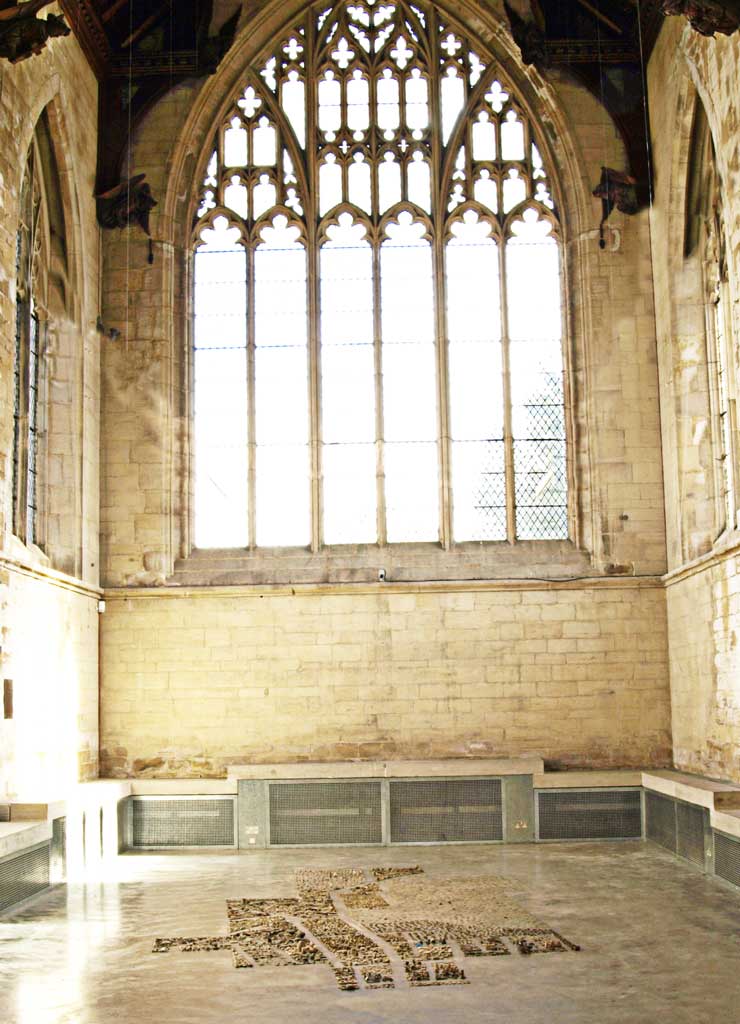 Around 11,000 metal objects were collected by metal detectorist Mr Walter Carlile in one parish of Lincolnshire (South Ferriby) over the course of two decades. Mr Carlile collected everything he found, from Bronze Age fragments, via Roman coins to post-medieval stair rod holders. The result is a record of metal objects lost in a parish over the last four thousand years. The collection was acquired in its entirety by North Lincolnshire Museum.


This installation might be the one and only time that the Carlile collection will be seen in its entirety. Like many other such collections, the finds are stored in boxes and shelved, often to be forgotten again. This work can cast new light upon this material, in effect it re-excavates material from out of the store room and offers its intrigue to the public gaze.


Often within a museum context only the most significant objects, the celebrity A list articles are put on display. The Z list stuff that although important, significant to a handful of experts world wide, remains unseen. Only a small fraction of material is ever displayed with each item being quantified through labelling.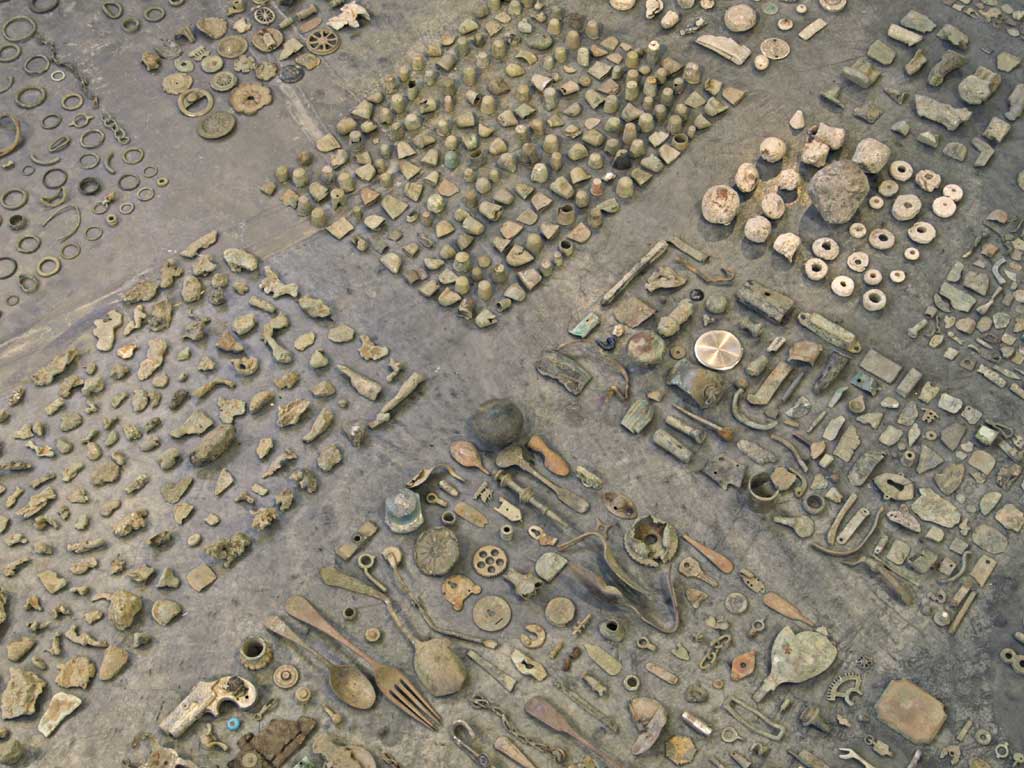 20-21 Visual Arts Centre, Church Square, Scunthorpe DN15 6TB info:01724 297070

The Carlisle collection opens on the 4th October when you will see the artist in action installing the work and closes on 6th December.
The opening hours are Tues-Sat 10am to 5pm.
RECYCLED BY DESIGN : GUILDFORD

Guildford House Gallery 155 High Street Guildford GU1 3AJ info: 01483 444742

20th September - 11th October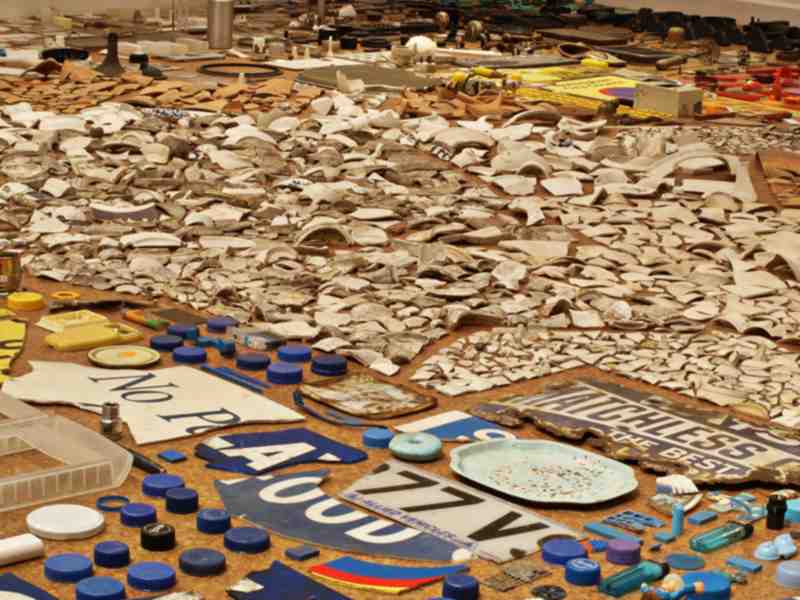 Artist Paul Matosic reproduced a map of part of Derby city centre on the gallery floor in an installation of found objects
and items from the museum archaeology collection at Derby Museum and Art Gallery.
The intention is to show the relationship between contemporary and historical objects and provoke thoughts about the transient nature of objects.
BERLIN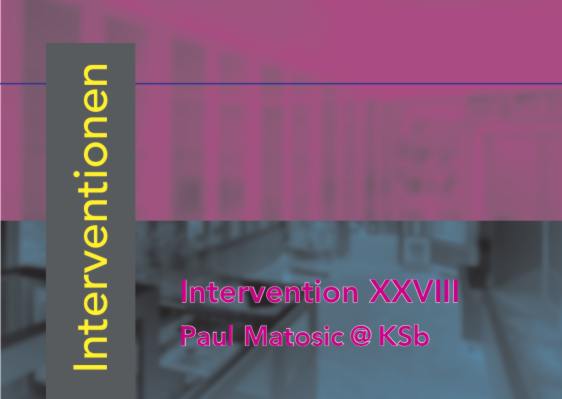 CANADA : CUTTING EDGE: Canadian Clay and Glass Gallery, Waterloo, Ontario, Canada February 2008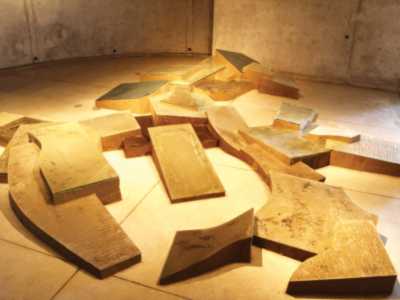 A journey Round my Suitcase.
Research project incorporating film and performative elements as I attempt to unravel the history of a suitcase.
Installation Film.
Research into filming installations with view of reducing my carbon footprint.
barnsley lost and found
cooper gallery, barnsley january 13th - march 3rd 2007

Visit the website HERE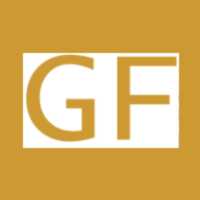 Q. what is GOLD FACTORY.?

A. a new contemporary art organisation located in Nottingham U.K.
which looks beyond borders, beyond the narrow confines of the ordinary
bringing cutting edge artists together.....